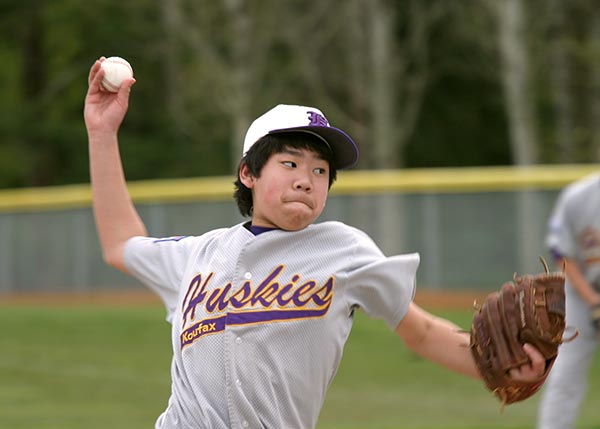 Home to the Eastside Huskies Baseball Club
Brad Peterson Baseball Academy is an instructional program for youth baseball based in Kirkland, Wa. Our students come from all over the Puget Sound area, primarily from the Eastside of Seattle.
We feature individual and group lessons, seasonal baseball camps and clinics, and we are the home of the Eastside Huskies Baseball Club, 13U and 14U Koufax League select teams.
Please contact us to find out how we can help your player.
Baseball Programs
At those times of year when there are no camps, Brad Peterson Baseball is still busy with private instruction for your All Star in the making. Visit our Private Instruction and Camps and Clinics to learn about some of what we offer. Please contact us to learn how we can help!
Winter Break Hitting Camps 2016
Session 1: December 19 – 21, 9:00am – Noon
Session 2: December 26 – 28, 9:00am – Noon
This is a hugely popular annual camp, allowing players to "get back into the swing" of things, getting the rust off and improving their swings as they prepare for the upcoming season. Drills, instruction, live hitting and our always popular, whiffle ball games.
Ages 14 and under, Cost: $125
Pete Wilkinson Elite Pitching Camp 2016
Session 1: December 23, 9:00am – Noon, December 24, 8:30am – 11:00am
Session 2: December 23, 1:00pm – 4:00pm, December 24, 11:30am – 2:00pm
Pete is one of the top pitching instructors in the country, bringing in the latest cutting edge information that allows pitchers to maximize velocity and improve control, thus maximizing arm safety and care. This is a must for any pitcher, high school age and younger. There is very limited space for this camp, register immediately!
Ages 18 and under, Cost: $150
Coaches may also attend (limited to 10 per session), Cost $99
Eastside Huskies 2016/2017 Season Updates
The Eastside Huskies Sandy Koufax teams have 1 opening for their 13u team and 4 openings for their 14u team.
Questions?
Text Brad at 425.802.0638 or email: brad_peterson_baseball@msn.com
Learn more about the Huskies Baseball Club
Private Instruction
The Brad Peterson Baseball Academy offers private instruction in pitching, hitting, and fielding skills.
Improve your abilities in order to maximize performance on the field, excel to the All-Star team, and increase enjoyment of the game.
I wanted to write and let you know how much your clinics in January and February helped Jack. Many have commented on his confidence level and of course the improvement in skills.
Kristin Adams
I learned the most about baseball the year I played for Brad when I was 14.
Jay Miller
Jacco learned so much! He had 2 baseball practices last week, and the coaches were asking, where he had learned to play like that! Thanks for the great camp.
Nicolette
Our son Jack (12 years old) took pitching lessons from Brad Peterson this winter. Brad's instructional techniques were excellent and Jack was motivated to practice the techniques himself after the instructions.
Jack and Kim LeVier